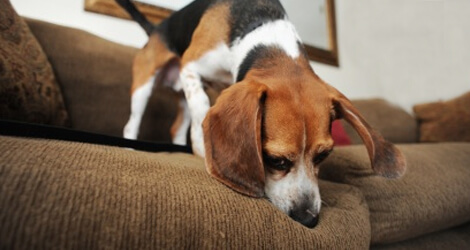 Canines are widely used as bed bug detectors who are trained to locate and identify the pesky bug population in your home and office. Dogs have a strong sense of smell which helps them to detect various substances and pests, right from the drugs to bed bugs and mold. Almost 90% results of canine bed bug detection in Welland, Dunnville, Cayuga, Port Dover, Caledonia, Binbrook, Brantford and Haldimand are correct.
At Bed Bugs Inc., we are a trusted bed bug control company in Ontario offering a wide range of residential and commercial bed bug extermination service at affordable pricing. Our pack of dogs is trained to recognize the scent of pests even at the hard to reach spots. Our canines can sniff out the unwanted bugs from homes, hotels, parks, hospitals and other buildings.
Why Opt For Dog Bed Bug Detection?
Unlike bed bug inspection done using tools and modern methods, the one achieved with the help of canines is a lot more worthy, accurate and competitive. Dogs use their sense of smell to reach even those hidden pests that are hard to cannot see with naked eyes. At Bed Bugs Inc., our canines are trained to identify and trace the bed bug infestation quickly and accurately. Some of the benefits of using dogs to find bugs include:
Quick Results
Accurate
Convenient
Cost-Effective
Reliable Inspection
No Limitations
What Makes Us The Right Choice?
With a team of licensed bed bug exterminators and trained K9's, we boast a good success rate based on all the detections we have done so far. By sniffing the scent of live bugs, our experts can find all the pest invasions present on your property. We know how uncomfortable it is to stay in a home infested with pests. This is the reason why we offer safe treatments to eliminate not only the bed bugs but their eggs and larva.
Areas We Serve
Unlike bed bug inspection done using tools and modern methods, the one achieved with the help of canines is a lot more worthy, accurate and competitive. Dogs use their sense of smell to reach even those hidden pests that are hard to cannot see with naked eyes. At Bed Bugs Inc., our canines are trained to identify and trace the bed bug infestation quickly and accurately. Some of the benefits of using dogs to find bugs include:
Welland
Dunnville
Cayuga
Port Dover
Caledonia
Binbrook
Brantford
Haldimand